Looking Back:                       
Seeing IBM as it was,                       
The Business
The Culture
The People
The Customers
The Competition
The Government
A Retired IBMers' View and Experiences.      
By John J. Sailors, 6/2011(latest revision)
Preamble:
IBM's unique corporate culture was more than a business; it was a family with feelings of responsibility and obligation to its employees, its customers and the communities in which they all lived.  This paper is a review of IBM's history starting in 1914, an inside look at IBM from 1956 to 1993 and a brief look at IBM financial performance from 1993 to 2002 as seen by an outsider.  I'm proud to have been a part of the IBM heritage.
Content:
- Preamble
- The Author, 
- The IBM Beginning
Tom Watson Sr.
C-T-R and IBM
Early Products
Tom Jr. and Dick Watson
- The IBM Corporate Philosophy
Respect for the Individual
Customer Service
Excellence
- The IBM Culture
Respect for the Individual
Full employment
Dress code
No alcohol
Open door
Personal experience
Speak-ups, Executive interviews, Opinion surveys
Employee benefits and compensation
Employee Performance Plans
Employee education
Marketing and sales commission plan
A real sales situation
More on education and marketing
Employee recognition
"THINK" logo
Corporate citizenship
- Evolution of Data Processing Technology
Competition
More on IBM technology
- The Marketplace, 50,60,70's
- Overview of the IBM Organization, 1988
- IBM Financial Growth, 1967 to 2001
Revenue, earnings, profit- 1988 to 2001
Stock performance- 1991 to 2001
Workforce- 1993 to 2001
- U.S. Anti-trust Actions
- Summation
- Conclusions
- References
-Appendix List
---------------------------------------------------------------------------------------
Author:  John J. Sailors
I spent 37 years with IBM, 1956 to 1993, starting with punched card systems, the 650, 1401, 1440, 305 Ramac, 1620, 1130 up through the System 360/370 and the PC.  Half of that time was spent in the U.S. Company as a Marketing Representative, Regional Special Representative for Banking, Marketing Manager and Branch Manager. During that time I was based in Los Angeles, Long Beach, Phoenix, Seattle, Denver and Boise. See Appendix for more information on assignment as Branch Manager in Boise Idaho, 1965-1973. I qualified for 14 consecutive IBM 100% clubs and 6 Golden Circles for sales and sales management performance.  See IBM wall plaque on next page
The second half of my career, beginning in 1973, was spent in IBM World Trade with the Americas/Far East Corporation. (A/FE was responsible for Canada, Mexico, Central and South America, Japan, China, Korea, Southeast Asia, India and Australia New Zealand). My assignments included Manager of AF/E Finance Industry Marketing and later Public Sector at AF/E Hq. in Mt Pleasant New York, Manager of  Regional Industry Marketing and later Public Sector Industries for the Southeast Asia Region Hq. in Hong Kong and later Singapore, Director of Japan Marketing Operations Support Staff and later Government Application Development for Asia Staff Operations Hq. in Tokyo, and acting Country General Manager in Indonesia. This included a total of 10 years of overseas assignments.  The two stops at A/FE HQ in Mt. Pleasant New York totaled six years.  In these assignments we spent a lot of time flying to and from the A/FE countries.  One year I did five trips from New York to the Far East and five trips to Latin America over a 12-month period. That added up to about 20 weeks on the road and a lot of long haul airline miles. 
<![if !vml]>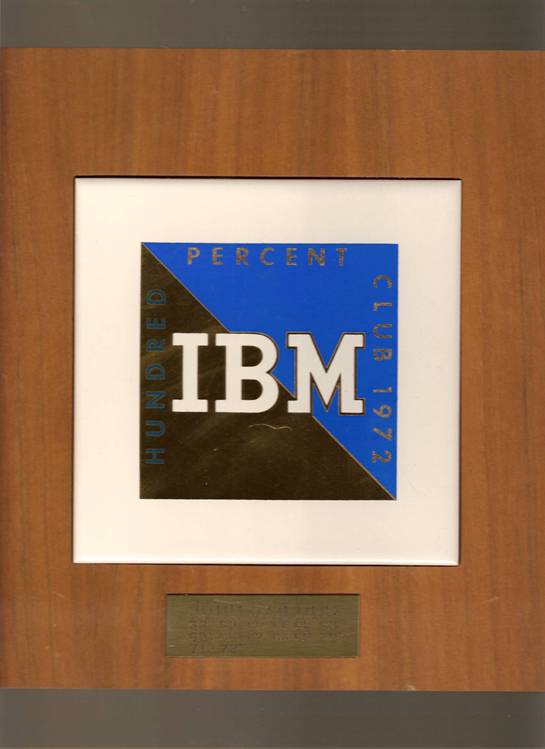 <![endif]>
I finished my IBM career in San Jose reporting to the IBM Storage Division plant GM as Manager of State External Programs in California. This included Government, Community and Academic relation programs for all IBM locations in Silicon Valley with a total of over 15,000 employees.  We also had responsibility for statewide legislative issues (like Unitary Tax) and business organizations such as the California Business Roundtable, the California Manufacturing Association and the Silicon Valley Manufacturing Group with a dotted line to the IBM Vice President in Washington D.C. for Government Relations.
During this 37-year period my family moved 17 times and IBM annual revenues grew from $800 million to over $65 billion.
Educational Background:
After high school in Newport Beach, California I spent 4 years in the U.S. Air Force, (1948-1952) the last 2 ˝ years in Tokyo during the Japanese Occupation and the Korean War.  This was after attending and being an instructor at the Air Force/IBM punched card training school at Lowry Air Force Base in Denver. I would later come back to Denver as an IBM Marketing Manager and twice more to Japan on A/FE assignments.
Following the military, I attended Orange Coast Community College on the GI Bill, where I served as President of the Associated Student Body in my second year. Played a role in getting Crew started as a sport at OCC and they are the only Community College in the U.S. still competing in this sport and must now row against all 4 year schools.  I then attended San Diego State University receiving a B.S. Degree in Business Management and Air Science with Honors and Distinction.  At San Diego State, I was a member of the Air Force ROTC and was commissioned a 2nd Lt. in the US Air Force Reserves at graduation.  I was also a member of the Sigma Alpha Epsilon (SAE) Fraternity.
After retirement from IBM in 1993, I served as a consultant to the Silicon Valley Manufacturing Group in organizing Workforce Silicon Valley, a federally funded "School to Work" program. Also Co-chaired the Workforce Board of Directors whose members included 11 school superintendents, 2 community college presidents and a comparable number of private sector executives.  See Workforce Silicon Valley brochure in appendix.
Also spent time as a consultant to the Santa Clara County Regional Occupation Center in San Jose.  This organization conducts vocational training for six Santa Clara County School Districts in over 20 career areas.  They also have a large Adult Education program. Together these programs have over 50,000 students per year.  
Following this activity I became the first Executive Director of the Tri-Valley Business Council located in eastern Alameda County.  This was an association of 100 companies located in a 5-city area that focused on public education, transportation and economic vitality issues.  The Council also operated the Crayons to Computers surplus equipment warehouse at Camp Parks for the local school districts.  With the help of female federal prison inmates from Santa Rita prison and private industry, we provided local schools with donated supplies and several hundred reconditioned and upgraded PC's each year.
Currently (2007) I'm a member of the Chabot/Las Positas Community College District, Measure B Bond, Citizens Oversight Committee which is spending $498 million over 5 years on new physical facilities. The two schools have over 21,000 students.
I'am also a member of Livermore Rotary, Pleasanton SIRS (Sons in Retirement) and the Pleasanton Men's Club.
The IBM Beginning:
Tom Watson Sr.
In the late 1800's a gentleman by the name of Tom Watson Sr. (not to be confused with current golfer with the same name) started his business career as a teenager selling pianos and sewing machines across the countryside from a horse and buggy. He later joined the National Cash Register Company (NCR) as a salesman and in 18 years rose to general sales manager of the company. After a fall-out with NCR president John H. Patterson, he resigned in 1913 with a severance package of $50,000.
C-T-R and IBM
In 1914 at the age of 40, Mr. Watson became the general manager of Computing-Tabulating-Recording Company (C-T-R), which 10 years later, in 1924, changed its name to International Business Machines (IBM).  He would lead this company for the next 42 years, until the age of 82.  C-T-R products included commercial scales, meat and cheese slicers, industrial time-recording equipment and tabulators and punched cards.  See copy of Watson letter on following page dated February 13, 1924 changing CTR name to IBM.
Prior to leaving NCR, Cash, as the company was called, Mr. Watson and several other Cash executives were convicted of anti-trust law violations for activities to control the secondary market in NCR cash registers.  Mr. Watson was sentenced to a year in prison.  Later, after he joined C-T-R, his case was thrown out on appeal and the Justice Department elected not to try him again.  This experience probably hardened his attitude toward the U.S. Justice Department, especially in later Anti-Trust actions filed against IBM. More on this later.
In later years Mr. Watson coined the phrases "World Peace Through World Trade" and "There is no saturation point in education" and the word "THINK" which was used frequently in IBM employee and customer publications.
"Think" signs hung on the walls of all IBM locations worldwide under a picture of Tom Watson Sr. All of our customers were provided with wall and desk size THINK signs in several languages around the world.  See below.
<![if !vml]>
<![endif]>
<![if !vml]>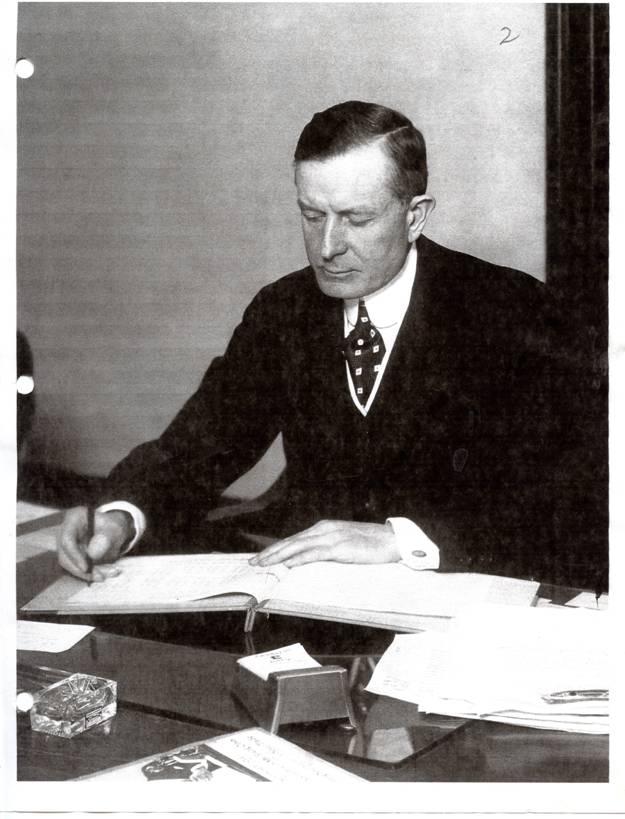 <![endif]>
Tom Watson Sr.
<![if !vml]><![endif]>
Early IBM Products
Tabulators and punched cards were the invention of Dr. Herman Hollerith and they were first used in tabulating the U.S. Census of 1890.  These machines became the forerunner of today's' very common computer systems.  See classroom presentation outline on the History of Data Processing in appendix.
Dr. Ken Kraemer a professor at UC Irvine visited the Hollerith family winery in Germany in 2004 and reported that they are using a punch card as their wine bottle label.
<![if !vml]>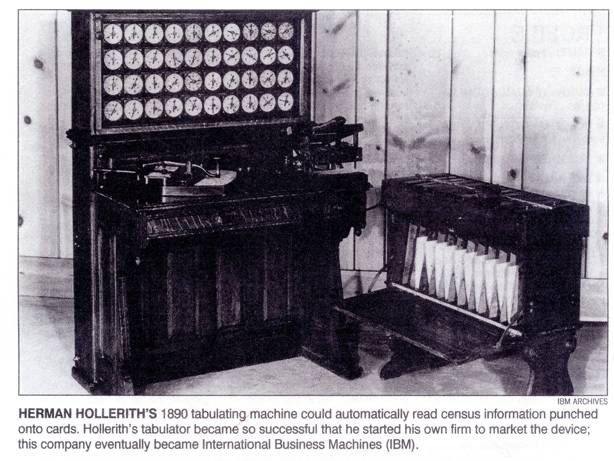 <![endif]>
IBM Time equipment was also a very visible early product. They were used as time clocks for punching in and out of work and were seen as wall clocks in many schools and businesses. I have a 1920's working model of the Time Clock that was manufactured by the International Time Recording Co. in Endicott New York. It can print the time on an employee time card for Morning IN, Noon Out, Noon In, Night Out, Extra IN, and Extra Out. These employee time cards were then sent to the payroll department. This Time Clock can also be wired directly to alarm devices throughout the building to signal specific times of the day.  After World War II the growth and profitability of this business slowed and was eventually sold off to Simplex and they are still in business today. See picture on next page of CTR products in January 1920. 
<![if !vml]>
<![endif]>
In 1933 IBM purchased a company that made electric typewriters.  After 13 years of initial losses, a new General Manager, Wiz Miller took over and from 1949 on posted 30% annual growth rates up through the 1970's.  This was highlighted by the announcement of the IBM Selectric Typewriter that used a round ball as a print element and a correcting feature that could remove print from the page.  This division later also sold dictation equipment and copiers. The typewriter division required an aggressive, smooth talking type of salesperson who was capable of making lots of cold prospect calls and demos at the secretary level.  IBM was very good at moving these products.          
IBM also manufactured and marketed Bank Proof Machines (802 and 803) for sorting, listing and totaling checks. These were 24 or 32 separate adding machines with tapes and a rotating drum with pockets to sort the checks by the bank drawn-on number. These bank sorted checks, with adding machine control tapes attached, went for posting to individual customer account ledger cards or to the clearing house meetings for exchange with other "drawn on" banks. Each individual check had to be handled manually several times in this labor intensive accounting process.
In the late 50's IBM Magnetic Ink Character Recognition (MICR) systems took over this application area.
Machine readable numbers pre-printed at the bottom of the checks identified the bank and their customer account number and a proof like machine was used to encode the amount of the check, also in magnetic ink. From there we used high speed MICR sorter/readers to sequence the checks and provide direct input to computers for processing. We had good competition from Burroughs and for a short time General Electric who built an early system called ERMA exclusively for the Bank of America. By co-incidence I was the IBM sales-rep. assigned to the GE manufacturing group in Phoenix while the ERMA was being built. They used an IBM 1401 and Cardatype in their accounting area. As an IBM rep. I was allowed in their accounting area but was prohibited from seeing their manufacturing line.  The ERMA later became the GE 210 and was marketed commercially to other banks with a Burroughs MICR Sorter Reader attached. It had a short market life.
Another early IBM product was the 805 Test Scoring Machine invented by a teacher Reynolds Johnson who I will talk about later in this text. Using a high graphite pencil the student would mark their multiple choice test answers in a prescribed area on a standard piece of paper and the machine would read these pencil marks and score each test.  IBM also had a mark sense reading card punch, which was used in several accounting applications. Graphite pencil marks on the card in prescribed areas would be read and cause the corresponding numbers to be punched back into the same card. It was a great way to decentralize data input to the point of the transaction occurrence. 
In the late 80's on-line computer terminals and later Personal Computers began to take over the functions of the electric typewriter and copiers.  The IBM typewriter business was sold to Lexmark..
In the late 70's and early 80's prior to the PC with Internet connections IBM developed a proprietary system called PROFS, (Professional Office System) which became an IBM dedicated worldwide network that could do word-processing and e-mail.  We could talk on-line to IBM offices in 120 countries.  Our terminals were simple Cathode-ray tubes (3270) connected to IBM mainframes and a dedicated satellite system.  I could sign–on anywhere in the network.  I can specifically remember doing "pass-thru" on a business trip to Korea with the e-mail software located in my Hong Kong office.  The White House also had an IBM PROFS system installed during the Reagan administration, which led to some of Ollie North's Iran/Contra problems.  Some of his supposedly deleted communications were later retrieved from the central computer system and became public record.
The IBM Corporate Philosophy:
Under the leadership of Tom Watson Sr. a unique corporate  philosophy was developed that included:
Give full consideration to the individual employee.
Spend a lot of time making the customers happy.
Go the last mile to do the thing right.
Under Tom Watson Jr. this business philosophy was codified into the "IBM Basic Beliefs:"
<![if !supportLists]>- <![endif]>Respect for the Individual, Respect for the dignity and rights of each person in the organization.         
<![if !supportLists]>- <![endif]>Customer Service, To give the best customer service of any company in the world.
-         Excellence, The conviction that an organization should pursue all tasks with the objective of accomplishing them in a superior way.
The "IBM Basic Beliefs" were prominently displayed in all IBM offices and I still have one of these displays. See attached.
To show how strongly Mr. Watson Jr believed in this Corporate Philosophy I would cite the following quotes from Tom Watson Jr's Columbia University Lecture Series.
"A corporation's beliefs must always come before policies, practices and goals.  The latter must always be altered if they violate these fundamental beliefs."
"We have got to have a concept that IBM is special.  Once you get that concept, it is very easy to give the amount of drive to work toward making it continue to be true."
<![if !vml]>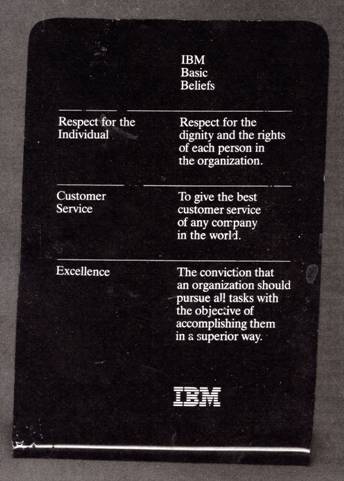 <![endif]>
The IBM Culture:
From 1914 to 1993 company policies were developed and practiced to support a business philosophy that became known as the IBM culture.
- Respect for the Individual, This policy was implemented by management and personnel practices such as full employment, benefits and compensation, employee recognition, open doors, speak-ups, executive interviews, opinion surveys, etc. all of which will be discussed in more detail in this section.
- Full employment, everyone is guaranteed a job except for failure to perform. This practice remained in force from 1914 thru the depression of the 30's to 1993, a total of 79 years. Very specific annual performance plans, grading and re-deployment were a part of this policy. Quoting from the book The IBM Way by Buck Rodgers, "during the economical problems of 1969-72 IBM moved over 12,000 employees from plants, labs and headquarters with light workloads to locations where they were needed.  5000 of these people were retrained for new careers in sales, customer engineering, field administration and programming."  IBM also had a practice against in-house promotions and world trade limited U.S. employee overseas assignments to a maximum of 5 years. This created further geographic re-deployment.  As stated in my bio I had 17 family moves in 37 years.  
Until recently most Japanese corporate culture also included full employment. 
- Dress code: white shirts, ties, conservative suits and, in the earlier days, hats were required on the job. I had to buy a hat to attend the IBM application and sales schools in Endicott. According to Mr. Watson Sr.," Everyone should look prosperous and successful in the eyes of the customer."  This applied to all customer contact personnel including maintenance and service.
- No alcohol:  alcohol was not permitted during the workday or at any company employee or customer functions.  This policy was still in place when the author retired in 1993.
- Open Door: all employees have direct access to the IBM Chairman or intermediate managers for any job related suggestions or grievances. In the mid 50's Tom Watson Jr.'s office handled about 300 open doors each year.  This was great training ground for Executive Assistants who were on the high potential list for future promotions.  This also helped IBM to remain free of unions, which is still true today.
A Personal Experience
I had a personal experience in this area when I was Branch Manager for Idaho and parts of Oregon and Wyoming in the early 70's.   Tom Watson Jr. Chairman of the Board and CEO, came to Boise to be the host and speaker at the bi-annual IBM family dinner. He flew himself into Boise in his personal Aero Commander plane late in the afternoon. He had skied 15,000 feet that day from a helicopter in Sun Valley. On the drive in from the airport he informed me that he was going to do an "Open Door" interview while he was is Boise, but quickly said it was not one of the Boise branch office people.  The Open Door turned out to be a black IBM typewriter salesman from the IBM Santa Monica California Branch Office, who in addition to being an IBM salesman was also active in the Black Panthers.  They spent two hours together closeted in my office before I had to interrupt them to get Mr. Watson to the IBM Family Dinner on time.  I learned later that Mr. Watson had this typewriter salesman transferred to IBM corporate personnel. He commented to me that he learned more about the black problem in the U.S. from this open door discussion than he had learned in many discussions with Bernard Baruch. See picture on following page of Mr. Watson and John Sailors taken before Boise Family Dinner in 1972.
<![if !vml]>
<![endif]>
Tom Watson Jr. and John Sailors. 1972, Boise Idaho
- Speak-ups, Executive Interviews, Opinion Surveys: All employees were encouraged to write signed or anonymous Speak-up letters to management on any grievance or suggestions for improving the business. This provided excellent feedback on employee-manager relations, employee morale and the state of the business. Many of these Speak-ups would find themselves the subject of Management Briefing Letters to all managers in IBM and changes in policy and practice would sometimes follow.   See "IBM World Trade Americas/Far East Corporation brochure "On Managing" dated April 1978 in appendix.
IBM employees were also invited to have Executive Interviews  periodically with managers one or more levels above their current  assignment.  These were considered private and confidential, and again provided excellent feedback on employee-manager  relationships, employee morale and the state of the business. This was also further pressure on immediate management to be sensitive to morale and their own man/manager relationships.
Annual Opinion Surveys were conducted throughout IBM and offices and organizations were graded.  These included questions on how you rated your immediate and higher managers.  A low opinion survey rating for your office or organization would invite a lot of outside attention.
-Employee benefits and compensation: Benefits were all non-contributory (IBM paid all of the costs) which included pensions, health care, education, etc. IBM stock options were extended to the most senior executives and a stock purchase plan was available to all employees at 85% of the current market price. The Pension program, in my case provides about 50% of the last IBM salary with half of this amount going to the surviving spouse.  In the 80's IBM established a 401k TSDP (Time Savings Deposit Program), which allowed each IBM employee to withhold 8% of their salary for a mutual fund investment, and IBM would match 50 cents on the dollar for the first 6%.  They also offered Group Life Insurance and Long Term Care Insurance programs through private carriers.  Today retirees do pay for health care coverage with medicare as prime.
<![if !vml]>
<![endif]>
<![if !vml]>
<![endif]>During World War II IBM paid 25% of an employee's salary while they were in military service.  This provided a strong incentive for these employees to return to IBM after the war ended.
In January of 1958 IBM put all hourly manufacturing employees on salaries.  This was the first major U.S. Corporation to make this change and was another defense against possible unionization.
- Employee Performance Plans: All IBM employees had annual performance plans and reviews.  The objectives were usually set at the beginning of the year and if there were any performance problems during the year, periodic reviews would be held.  The grading on these reviews (1 thru 5) determined the size and frequency of your next merit increase in salary.  A 1 rating was Far Exceeded, (walks on water) 2 was Consistently Exceeded, 3 Exceeded at Times, 4 Need to Improve and a 5 rating meant that the employee was on a documented improvement program.  A multiple year 4 rating or a single year 5 was usually grounds to manage that person out of the company.  Employee ranking was sometimes used to further validate performance ratings within a peer group.  Rankings were also used in 1993 to make the very first employee layoff decisions.   As an example of the Performance Plan process, I have included one of my performance plans and evaluation in the appendix.
- Employee Education: Marketing training in the 50's included eight weeks of punch-card machine training near your point of hire, in my case Los Angeles, and this included card design, machine operation and learning to wire the control panels; then eight weeks of application training in Endicott New York, learning how to do the many accounting applications on punched card systems such as billing, accounts receivable, inventory, payroll, etc.  This was followed by approximately six months working in a branch office as a junior salesman, making cold prospect calls and helping customers plan and implement punched card applications, in my case wiring the 607 Calculator control panels for the payroll application at the City of Long Beach. Finally, you spent four weeks back in Endicott for sales training. IBM songbooks and the singing of company songs most mornings was part of the school ritual. "Ever Onward" seemed to be the company theme song. This sales training included practice product demonstrations, proposal writing, and practice sales calls on the instructors and sales school managers.  See IBM Applications Class roster and picture on the next page that was taken in front of the IBM Homestead in Endicott New York, October 1956. I'am front row right.
<![if !vml]>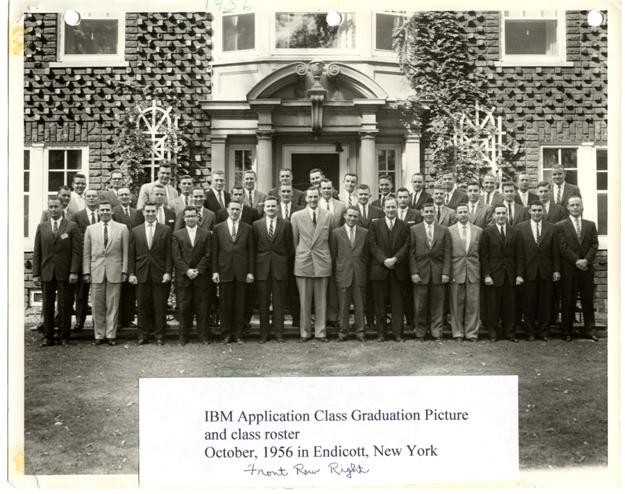 <![endif]>
<![if !vml]>
<![endif]>
-Employee Overseas Assignments and Organization
All IBM overseas country organizations were staffed with indigenous English speaking personnel and in most cases in the 70's and 80's the country General Managers were on assignment from an English Speaking Country. The one exception in Asia was IBM Japan where we had a large English speaking assignee staff organization in support of IBM Japan senior and middle management.  These assignments were usually 3 years in length from the U.S. with a possible one-year extension and could be an indeterminate length if the assignee was from England, Australia, New Zealand or Germany.  Under no circumstances could a U.S. employee stay on overseas assignment even with multiple locations longer than 5 years. 
The overseas living allowances for assignees were very attractive and included housing, tax assistance, cost of living and private schools for their children plus family home leaves once a year. College age children were flown to the overseas locations for summer and Christmas vacations each year. IBM also covered interest and maintenance costs on your U.S. residence while on assignment.  A hypothetical U.S. income tax was calculated on each assignee assuming they never left the states and this became the assignees maximum tax liability.  This was important because an assignee had U.S. income tax liability on all overseas allowances plus they had to pay a foreign income tax to the country of residence.
Tax loans were provided by IBM which were forgiven by grossing up the employees W2 withholding when they returned from assignment. It cost IBM an average of $500,000 per year to have a family on assignment in Japan. House and apartment rents for assignees were $10,000 or more per month or more. IBM also had a MAP (Management Acceleration Program) for high potential foreign employees whereby they and their families were brought on assignment, usually to IBM World Trade HQs in New York, for one year of staff experience and to improve their management and English speaking skills.
One of those, Bobby Romulo, became IBM Country GM and later Foreign Minister of the Philippines and we still have internet contact..
- Marketing and Sales Commission Plan: At the completion of training, you assumed a sales and installation quota and salary plus commission, (initially 60% salary and 40% commission) branch office sales territory that had a limited number of existing customers and a  lot of prospects. A dollar in revenue equaled a quota point. In the 50's when I went on quota all IBM products were rented, with a 90-day cancellation notice, so the salesman had a commission liability to protect the existing rental revenue in the territory as well as, a rental growth quota for selling and installing new equipment. This meant that if you or someone else had collected the original commission on the equipment sale or equipment installation to this customer and sometime during your responsibility for this customer he elected to take out any of the IBM equipment or cancel any on-order equipment, you had to pay back the commissions originally earned by the selling or installing salesman.  This kept you totally tied to the success of this customer and his satisfactory use of IBM systems. (this was called the charge-back system)
There was a major emphasis and cash bonus for signing up new customers. I had 25 "new name accounts" during 5 years of direct sales responsibility in Phoenix, with no cancellations. If a competitive situation occurred with an existing customer or a potential new-account, the salesman was required to write a Special Situation Report. This got wide circulation so that the full regional and sometimes national resources of the IBM Company could be applied to help win or maintain this business.  It was a serious career error to lose any IBM business where you were either unaware of the competitive threat or failed to ask for Special Situation Report help.  Each salesman was required to keep a written Call Book detailing their day to day customer activity. Their immediate managers were required to read initial these Call Books on a weekly basis.  Frequency of customer coverage was also measured.
In government marketing, a strong emphasis was put on Pre-procurement marketing, which meant having a strong influence on the terms, conditions and product definitions contained in the formal  Request for Proposal (RFP). This was a fine line to walk because the amount of influence you had could be challenged in a post award protest hearing.  I will talk about an actual protest situation in a later section.  However if no pre-procurement marketing was done then it was a good probability that we would not bid on the RFP.  These procurements were normally longer in length than private sector marketing opportunities, so the salesmen were on a 90% salary and 10% commission plan. In government procurements, "Benchmarks" were usually required. This meant that you had to take a running program from the customers currently installed computer system, regardless of vendor, and show that you could run it faster on the proposed new system, i.e. "Benchmark." 
A real sales situation in Idaho, a federal government procurement requiring a "Benchmark"
In the case of the National Reactor Test Station (NRTS) procurement in southern Idaho, we had to take two hours of application running time on the currently installed system (in this case CDC, Control Data Corporation computer) and compress this to 30 minutes on the proposed 360 IBM System. Boise branch office System Engineers spent over two weeks in Poughkeepsie New York working on the Benchmark test. I flew with the 5 man NRTS evaluation team to New York and when we landed at Kennedy airport the IBM Corporate F-27, (this is a small two engine high wing prop plane that was equipped to carry 20 people in executive luxury), was parked in the next pod. (Arranged by the IBM Marketing Rep.) We then flew on the IBM plane to Raleigh North Carolina and at midnight, demonstrated two IBM 360 Systems talking to each other, which was part of the benchmark test. 
After a short rest stop in a motel, we climbed back aboard the F-27 at 6 A.M. and started flying towards Poughkeepsie NY. As of the night before, the systems engineering team, who had been working around the clock on this benchmark test, still had not reached the 30-minute target.  We had an agreement that we would make contact from the plane with the Systems Engineering (SE) team about an hour out of Poughkeepsie to get the current status, and if they needed more time to complete the preparation for the benchmark test we would seriously consider doing a plant tour before the benchmark demonstration in order to provide more time for the SE team to reach the Benchmark target. Someone also suggested that we could declare bad weather and land in up-state New York and bus the evaluation team back to Poughkeepsie in order to provide more time for the IBM Benchmark team. When we called in we got the good news that they were ready and we landed safely on a very icy runway in Poughkeepsie. 
The Benchmark demonstration went flawlessly with members of the evaluation team monitoring every computer device with stopwatches.   The Poughkeepsie test center was under going some renovation at the time and during the Benchmark a workman came into the room and used the top of one of the CPU boxes as a work bench to drill a hole into a piece of wood. Luckily it had no affect on our benchmark.
The next day when the five member NRTS team moved on to Minnesota for the Remington Rand Univac Benchmark test, one of our competitors in this procurement, the IBM team rode the same commercial plane with them from New York to Minneapolis and got off the plane with the NRTS team and said our goodbyes and hugs in front of a very large and surprised Remington Rand executive welcoming group.  We later sent a wire to the evaluation team at their Minneapolis motel, which said "Remember, Speed, Accuracy and Flexibility and a Quarter Inch Drill."
We won this $12 million procurement against the installed CDC system, who had a very good reputation for scientific and nuclear code computing.  To complete this installation and pass an acceptance test, the branch office SE team had to write some special IBM software that enabled several IBM 1130 computers to act as remote terminals from the nuclear reactor test sites to the new central 360 systems.
- More on education and marketing: To sell industry solutions, and not just hardware, IBM sales classroom training was provided in specific industries such as banking, manufacturing, utilities, distribution, government etc. and sales territories and sometimes entire branch offices became specialized along these industry lines.  I attended Banking Industry School and that class was done by the Stonier Graduate School of Banking at Rutgers University. I also used the head of this program, Dr. Paul Nadler, as a guest instructor in several bank customer classes.  In addition, I attended Utility Industry and several government pre-procurement marketing classes. The emphasis was to sell business solutions and not products.  The axiom was you will never win a price and hardware battle, which meant comparing speeds, functions and price between competing systems.  The customer only bought business solutions and we trained our sales and systems engineering people to sell and install these solutions.
Regional non quota, non-commission Industry Special Reps were available to territory salesmen for branch office sales calls, working trade shows and conducting week long customer executive classes at our plant sites in San Jose, Endicott and Poughkeepsie.  The first day of these customer classes included introduction to data processing concepts followed by 3 and 1/2 days of specific industry application solutions on IBM computer systems.  Leading edge IBM customers were used as guest instructors. Plant tours were always on the agenda. The customers resided in IBM Homestead facilities at these locations. They ate breakfast and dinner in the Homestead and had lunch in the plant site employee cafeteria. A Thursday night graduation dinner was held with a senior IBM executive thanking them for doing business with IBM.  No alcohol was served.
I worked as a Banking Industry Special Representative on the West Coast and managed and taught many IBM customer classes in San Jose. I was teaching one of these classes the day that President Kennedy was assassinated on November 22nd 1962. My West Coast territory included all of the IBM branch offices from Denver to Hawaii and Alaska to San Diego.  My home base was Seattle and mostly the Seattle Airport.
IBM Japan also operated a customer education center at Amagi near Mt. Fuji, which I used several times for customer meetings and seminars while in A/FE.  Leading edge IBM U.S. and Canadian customers were also brought over to Japan to help teach these classes.  Simultaneous translation was done where required.  At the Thursday night graduation dinners everyone wore Japanese yukatas and the U.S. customer guest instructors were presented with glassed cased Japanese Doll thank-you gifts.  It cost us more to ship these dolls in glass cases to the U.S. than their original purchase cost.
We also took these industry seminars on the road.  In November 1981, over the Thanksgiving holiday, I organized and managed a University Applications seminar with stops in Hong Kong, Taipei, Shanghai and Beijing.  Our instruction team included Roy Miller, Director of Computing Systems at McGill University in Montreal.  They had a system called MUSIC, McGill University Student Interactive Computing, which we also demonstrated live in Beijing.  This demonstration was done at 11 P.M. at the Chinese National Statistical Bureau which had an IBM 1440 installed.  The 50 Chinese participants, mostly university professors, and all in Mao suits and hats, rode their bikes in the cold winter as far as sixteen miles to attend our demonstration.  This was their very first experience with on-line computer systems.  To show their appreciation, IBM Japan who had marketing responsibility for China at that time arranged for us to have turkey for dinner in the Beijing Hotel on Thanksgiving eve.  See picture of IBM instruction team taken on the Great Wall.  John Sailors is second from the left and Roy Miller on the far right. Also included with this paper is a 2 hour CD and DVD disk video record of this trip.
Company airplanes Dc3's, Two Engine Convairs, F-27s and later jet Gulfstreams were available to the U.S. branch offices to fly customers and prospects to IBM plant sites for one-day briefings and plant tours. (See roster and picture of IBM Boise flight departure to San Jose in the early 70's)
Beginning in the mid 50's IBM established their first management development schools.  All managers would receive from 2 to 6 weeks of management training on the importance of the IBM business culture and how to manage and motivate people.
In market research, IBM Domestic and A/FE Government Industry Marketing made good use of the University of California, Irvine based Public Policy Research Organization (PPRO).  This group of professors from the schools of Business Management and Computer Science, led by Professor Ken Kraemer, did extensive studies for IBM and others on the use of computers in government and why some countries had better computer penetration and use than others.  PPRO also sponsored MISPAC, Management Information Systems Pacific Area Community, and meetings were held at the East West Center in Hawaii.  In these sessions government computer users and academics from the U.S. and the Far East came together to discuss data  processing trends and directions and hopefully application transfer between countries.  PPRO is now called CRITO, Center for Research on Information Technology and Organizations and they still do research studies for IBM and others including the National Science Foundation.  Currently (2002) they are studying The Globalization of Information Technology with an emphasis on E-Business.
<![if !vml]>
<![endif]>
Business trip to China with McGill University to conduct
Seminars and demo MUSIC McGill University Student Interactive Computing System. 1981
<![if !vml]>
<![endif]>
<![if !supportLists]>- <![endif]>
- Employee Recognition:  IBM employee rewards and recognition included annual 3-day Hundred Percent Club conventions for all salesmen and managers making their assigned quotas that year.  The early year Clubs were held in tents at Endicott NY but were later moved to major cities throughout the U.S. While in the U.S. company as a salesman, marketing and branch manager, I qualified for 14 consecutive Hundred Percent Clubs, 6 as a marketing representative and 8 as a manager, and was Vice President of the 1962 Western Region 100% Club held in San Francisco. This meant that I had the second best sales performance of all of the IBM sales representatives in the western half of the United States for that year. Managers ran on the total quotas assigned to all the people working for him or her. No alcohol was served at these conventions.
In the appendix you will find copies of several pages from the 1929 One Hundred Percent Club Convention brochure held in the Hotel New Yorker in January of 1930.  
Each year IBM also had a Golden Circle convention for the top performing 10% of the salesmen and managers who made their annual quotas and had 5 or more prior 100% clubs.  This 3-day event included wives and was held in such places as The Breakers Hotel in Palm Beach, Mexico City, Banff and Acapulco.  I qualified for 6 Golden Circles during my 14 years in domestic sales and sales management. Needless to say there was additional pressure from your wives to make the Golden Circle each year.  Again no alcohol was served but we did manage a few private cocktail parties in ours rooms before the official evening events. A major nationally known entertainer performed at the closing dinner such as Tony Bennet, the Carpenters etc. 
Quoting from Buck Rodgers' book, The IBM Way, "on the engineering side IBM had the Corporate Technical Award and the IBM Fellows program.  In 1984 IBM recognized 259 technical professionals, including 79 who shared $2.7 million in awards.  The largest award-$1.78 million- went to two teams of 48 employees who worked to bring about the success of the IBM PC and the 3880 Direct Access Storage Device.  Also five new IBM Fellows were named, bringing to 88 the number appointed since 1963.  They are chosen for their accomplishments in engineering, programming and science.  IBM Fellows are free to pursue their own projects for a 5-year period.  The title is retained for life."
CENTURY BEGINS, GLOBAL CONFLICT NEARS
<![if !vml]>
<![endif]>
In addition, I planned and helped to manage IBM Japan and IBM Southeast Asia Region (SEAR) Recognition Events held in Tokyo, Hong Kong, Seoul, Sydney and two in Manila during the 70's and 80's. These events took several months of pre-planning and we arrived at the event location 2 to 3 weeks before the convention. You would have 6 to 800 attendees from Japan and or the countries in Asia at each event.. (See appendix on 1975 IBM Japan Convention held in Manila Philippines in April 1976)
The most memorable experience of the Recognition event in Sydney was when the IBM Philippines qualifiers were able to attend the recognition event just a few days after Marcos was forced out of office and martial law was ended. The IBM General Manager Bobby Romulo and his 100 plus attendees were all on stage for a standing and emotional ovation from the 600  qualifiers from seven other Southeast Asian countries.  Mr. Romulo is the son of the late Carlos P. Romulo former Aide de Camp to General Douglas MacArthur during World War II, U.N. President and U.S. Ambassador, and Foreign Minister.  Bobby himself also went on from IBM to become Ambassador to the European Community and Luxembourg and later the Foreign Minister of the Philippines under President Ramos.  He is now senior advisor to the President of the Philippines.
"THINK" as mentioned earlier, was a one word-logo that was used throughout IBM.   An IBM Think Magazine was published bi-monthly and sent to all customers, employees and thousands of other people free of charge.  It contained mostly current event articles and an editorial from the Chairman. See copy in appendix.
In the early days desk top "THINK" signs were given to all of our customers. They were available in all languages around the world. 
At the IBM Education Center in Endicott "THINK" in two foot high bronze letters are placed over the entrance door and the marble steps in the entrance way are engraved with Think, Observe, Discuss, Listen, Read. Pictures of Tom Watson Sr. hung in each classroom and most other IBM locations worldwide with a THINK logo below the frame.
- Corporate Citizenship:
Over 2 % of annual corporate earnings went to the support of IBM employee and company participation in charitable and citizenship programs.  IBM had no Political Action Committees, PACS, and made no corporate political contributions but we did employ lobbyists in major state capitals and in Washington D.C.  From 1983 through 1987 IBM gave a total of $817.3 million to education and charitable causes making it a leader among all U.S. corporations and philanthropic foundations.  In 1988 community and academic support from IBM and its employees totaled more than $170 million nationally and $31.9 million in California. The company also spent $100 million on collaborative research with colleges and universities.  See 1988 brochure, a report on IBM's contributions to employment, education, technological innovation, and community service, in appendix
While based in the Southeast Asian Region office in Hong Kong I initiated an IBM PC model classroom program in 1985, using the Canadian University of Waterloo "JANET," (Just Another Network,) software and their installation personnel.  14 computerized classrooms were donated and installed in 7 countries at a cost of over $1 million.  The two person University of Waterloo installation teams would come out to Southeast Asia for two weeks each and install 2 classrooms on each visit. See participation award certificate below:
<![if !vml]>
<![endif]>
One of the classrooms went into a grammar school in Quezon City outside of Manila with IBM "Writing to Read" software.  Because of the open classroom we had to put in windows to protect the equipment from the elements and hire security.
In San Jose with 15,000 local IBM employees from all divisions, the corporation and its employees donated over $7 million to local charitable causes in 1992.  50% of these monies were contributed by IBM employees thru the annual United Way Campaign that we ran at each site.  This does not include the thousands of volunteer hours contributed by these employees each year.  Being a major player in community support certainly enhanced the IBM image and made it easier to get marketing and political contacts when needed. 
IBM San Jose property taxes also contributed 22% of the cities' re-development budget that year.  We had constant discussions going with the Santa Clara County assessor on the value and life cycle of our plant and equipment.  I'm sure this is a part of the reason why we have moved some San Jose manufacturing overseas to Hungry, Mexico, India, Malaysia and other overseas locations.
In 1989 I authored an IBM funded $20 million 5-year effort to help improve California K-12 education through the use of IBM PC technology.  Ned Lautenback and Lucy Fjelstad IBM Corporate Vice Presidents funded this effort and the late Ed Sandel, formerly manager of IBM customer education in San Jose, managed the project.  See  brochure, IBM California Education Partnership in the appendix.
I received a commendation letter from Terry Lautenbach, President of the IBM Data Processing Division and a 10k cash bonus for selling the value of this program to the corporate office in New York.  (By this time I had already moved on to a new assignment in Singapore and the presentation was made in a managers meeting in Hong Kong)  I took 9 trips from San Jose to New York over a 3-month period to present this program at various management levels.
<![if !vml]>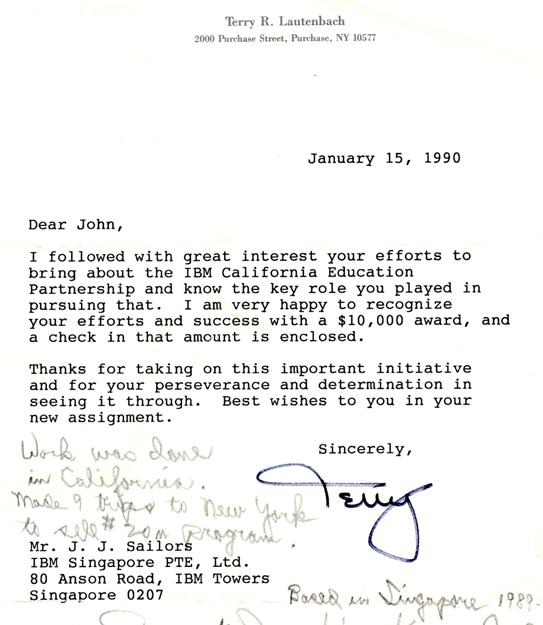 <![endif]>
Most community contribution programs i.e. Matching Grants, Fund for Community Service and discretionary funding were driven by employee participation in that activity. As shown above a heavy emphasis was put on education. IBM San Jose had over 30 K-12 school partnerships, each one staffed by employee volunteers.  (See flow chart on how this process was initiated and managed) We also hired up to 10 teachers as summer interns each year.  They were paid $800 per week, given productive assignments, and had an IBM mentor who usually wound up as their classroom volunteer when school started again.  This industry experience was invaluable to these teachers as they related the importance of education to careers in their classrooms.  See appendix for presentation " A Corporate Community Support Program" 1992, and the brochure "A Responsible Neighbor" highlighting 1988 IBM community support in Silicon Valley. Also Corporate and Operating Unit Corporate Social Responsibility Directory, California Section. Also "The Bottom Line On Business/Education Partnerships", A survey of Opinion Leaders Conducted by The Wirthlin Group For The IBM Corporation.
As a part of my IBM Government and Community relation's responsibilities in Silicon Valley I was invited (along with 10 of my corporate counterparts) to have a private breakfast in October of 1991 with then Governor Bill Clinton at the San Jose Fairmont Hotel.  This was three days before he announced his candidacy for the Democratic nomination for President of the United States.  A short time later, when he returned to Silicon Valley as an established Presidential candidate, he was able to fill the ballroom with corporate CEO's.  He served two terms as President of the United States.
Following retirement from IBM in 1993 I spent part of a year with former IBM Program Manager Joyce Monda as a consultant at the Regional Occupational Center in San Jose helping to establish an educational foundation. From there I worked with the Santa Clara County Manufacturing Group on the Federal School to Work Opportunities Act of 1994 and I co-chaired the Workforce Silicon Valley board of directors that was a collaborative among Industry, Education, Government, Labor and the Community.  See Workforce Silicon Valley brochure in appendix.
Tom Jr. and Dick Watson
Tom Watson Jr. joined IBM in 1937 after graduating from Brown University. According to his own book, Father Son & Company, Tom Jr. was not a very good student.  He spent 3 years in sales, training and handling a punched card machine sales territory in Manhattan.  His real love was flying. He joined the U.S. Army Air Corps during World War II and was involved in setting up a ferrying system for U.S. manufactured warplanes to Russia.  The route was over Alaska and through Siberia. He reached the rank of Lt Col. in his 4 years of service.
Following the war he returned to IBM, working in the corporate office as a Vice President, Executive Vice President, President and in 1956 became Board Chairman and CEO when Tom Sr. retired at the age of 82.  Tom Jr ran the IBM Company for the next 15 years, retiring after a heart attack in 1971. He was responsible for moving IBM successfully from punched card machines to computers in the early 50's. 
Mr. Watson Jr. went on to become Chairman of the General Advisory Committee on Disarmament and the Ambassador to Russia in the Carter Administration.  Shortly after he assumed the ambassador-ship Russia invaded Afghanistan, which the U.S. condemned, and his time in Moscow was not very productive.  Now we are in Afghanistan.
Mr. Watson was an avid sailor and pilot and continued to fly well into his 70's.  He died in 1996. As mentioned earlier in more detail he visited the Boise branch office in the early 70's as a speaker for our bi-annual family dinner. See the picture on the next page of Tom Watson Jr. as it appeared in the September 1989 issue of THINK Magazine.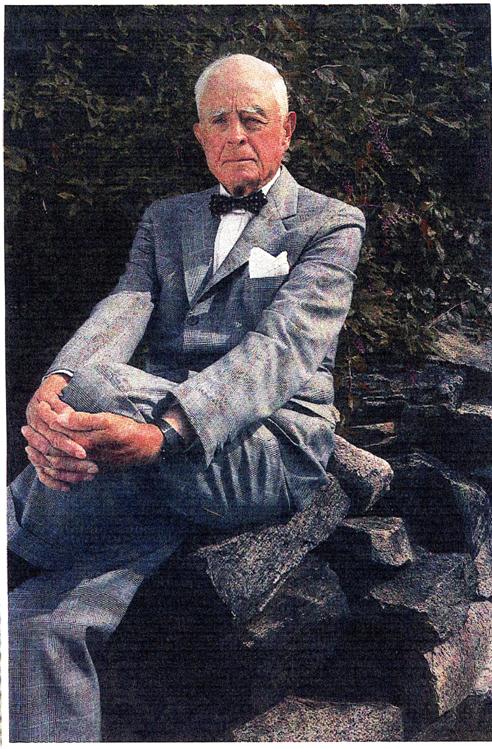 Dick Watson, the youngest son by 5 years also served in the Army in World War II reaching the rank of Major.  After the war he got a degree in International Relations from Yale University and joined IBM as a sales representative.  A year or so later Mr.Watson Sr. moved Dick to the corporate office as Vice President of International Sales.Later IBM made international sales a wholly owned subsidiary and Dick became President of IBM World Trade and later Vice Chairman of IBM. He also headed up IBM's manufacturing and development for System 360.  When the 360 failed to make the planned announcement schedules he was removed from that job by his brother Tom. 
Dick Watson went on to become Ambassador to France and died a few years later in an accident at his Connecticut home.
Evolution of Data Processing Technology
Beginning with Hollerith invented punched card systems in the late 1800s, followed by punched card or unit record systems, and then computing systems that we know today got their start in the early 50's.  (See appendix for a presentation I did on the "History of Data Processing" for the Vintage Computer Festival in 2005.
Making the transition from Punched Card Systems to Computers in the early 50's was a very difficult decision for IBM.  The Remington Rand "Univac" was the first commercial electronic computer on the market.  IBM responded a short time later with the following systems.  SSEC (Selective Sequence Electronic Calculator) 602A, 603, 604, and 607, all designed to work with punched card systems and programmed by wired control panels. Then came the magnetic tape 701 for scientific calculation, the 702 for accounting applications, the 650, a medium range magnetic drum storage system, and SAGE, Semi-automatic Ground Environment System, for the U.S. Air Force. The SAGE Systems each had 50,000 vacuum tubes and were duplexed at 58 locations around the U.S. to coordinate radar detection and response for incoming hostile bombers.  This system had a very short life when the Russians launched Sputnik in 1958 and acquired missile delivery capability.  SAGE is on display at the Computer History Museum in Mt. View California.
And finally the most significant breakthrough occurred in the mid 50's in a San Jose Lab on Notre Dame Street when the late Reynolds Johnson, the former teacher mentioned earlier who invented the 805 Test Scoring Machine, developed random access hard disk storage, similar to a long-playing musical record that was incorporated into the IBM 305 Ramac. I had the pleasure of sponsoring Reynolds Johnson for the Silicon Valley Junior Achievement Hall of Fame.  At the awards dinner at the San Jose Fairmont Hotel, with he and his wife, I learned that in retirement he was working on a Chinese language typewriter in his garage. He passed away in 1998 at the age of 92.  A one-page bio of Reynolds Johnson is on the next page.  More complete information on Mr. Johnson is in the appendix. San Jose Junior Achievement has a video on his achievements and award, a copy of which I had sent to the Computer History Museum in Mt. View California..
These first ever data storage disks were 2 feet in diameter and it took 50 of these spinning platters to store 5 million characters. The reading and writing of data on these disks was done by a single read/write arm that traveled mechanically up and down a shaft to strattle the top and bottom of the individual spinning platters. Data access time was measured in seconds, but it was random access for the first time and not the batch sequence processing systems we had to live with before on punched card and magnetic tape systems. This gave birth to the first on-line computer systems in the industry.
I have one of the early 305 Ramac disks and several of the much smaller and denser storage versions. From 1956 to 1998 capacity went from 5 million characters on fifty 24 inch-diameter platters or 5 megabytes, in a box weighing one ton, to a single 1 inch-diameter platter with 340 megabytes of storage space which weighs less than a double-A battery.  See picture of 305 Storage System being unloaded from a Pan American Airways cargo plane.
<![if !vml]>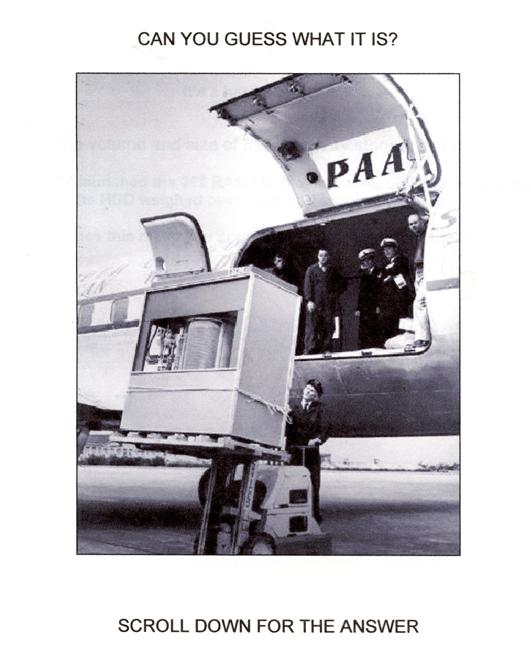 <![endif]><![if !vml]>
<![endif]>